Throne of Storms – Identity Lost
Throne of Storms – Identity Lost is Book One in my Throne of Storms series.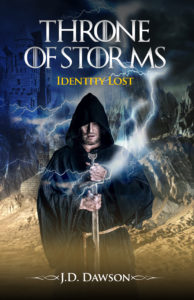 Book two, entitled Darkbain, will be out this year (2019). Don't worry, the third book won't be long after that.
What is the series about? Your typical lost son, good but neglectful King, wicked step mother, slightly crazy (OK, really crazy) sister all rolled together with an invasion and rebellion. How will it play out? Will the Realm survive the threats both inside and out?
How does it all turn out? I will let you know when I figure it out.
Seriously, there are a number of twists, turns, loss and heartache as the young primary character Ellison Auvil negotiates through war, love and his ever-increasing powers trying to save his Kingdom and stop his step mother; which is complicated by all the chaos around him. He will be torn in many different directions trying to protect his people and harness the power of a Stormbringer.
Lost, chased, seduced and fighting for his life. Only a sword gives a clue to his identity as storms follow his path.
What is Identity Lost about?
Below is the back cover summary:
An ancient power all but lost, asserts its might in the realm of Alvita. Through the centuries the power of the Storm has been concentrated in the Lords of the High Families. Now, with only a handful of powerful Stormbringer's left, the Witch Queen begins her quest to rebuild her family's bloodlines and remove the Auvil family from the Throne of Storms through dangerous alliances, death, seduction and rebirth. Even as she moves against the King a dangerous new enemy has landed on the shores of Alvita and her own seeds of rebellion threaten to unravel because of her alliance with the Black Dragon.
But Identity Lost is about even more than that. It is about finding one's self and love as the young Prince Ellison uncovers what has happened to him, even as he falls deeper in to the trap set by his step-mother. It is about loss and betrayal.
It is about family, although in more of a dysfunctional crazy type of family way.
Check out Identity Lost, it is for sell as both and eBook and paperback on Amazon. I will put the links below. After you read it, please be sure to put a review on Amazon. Also, you can reach out to me directly through email at jd@jddawson.net
I always like to hear from my readers, that is why I write.